Revisiting Daredevil: A Return to Hell's Kitchen
Daredevil is, in my opinion, the best comic book TV show to ever grace the small screen. It's an amazing adaptation of the classic Marvel Comics character. The show took television by storm and became one 2015's best and most beloved TV series, critically and commercially. As we've entered the new year, season 2 of the acclaimed Netflix series is upon us. March 18, is the debut date for the second season and I'm sure it wont disappoint. With new characters like The Punisher and Elektra making their much anticipated debut on the series, season 2 appears as if it'll surpass season 1 in terms of entertainments and sheer greatness.
My comments shouldn't be taken as an insult to season one. Sure, it seems as if my praise, and excitement, for season two makes season 1 seem matchless compared to the upcoming season.. On the contrary, I love season one. Its the catalyst for my love of the show and the very excitement that burns within me for the upcoming season. I recently revisited the series about blind crime fighter Matt Murdock. As season two closes in, I felt the need to return back to Hell's Kitchen and its introduction into the MCU (Marvel Cinematic Universe). I yearned to re-experience the thrills of the initial season. In doing so, I realized why I love this show so much.
After a day of binge-watching, (yes I'm that much of nerd) I'm finally, once again, finished with Season onw of Marvel's Daredevil. I know what you're thinking, 13 episodes watched all in a day! That's crazy. If you think it's crazy, don't blame it on me, blame it on this fantastic show that seized me like easy prey. It's not only a great comic book show, but one of the best television series on TV.
For the unfamiliar, Daredevil is the alter ego of Matt Murdock, Hell's Kitchen defense attorney and on and off again Catholic. A childhood accident blinded Murdock while strangely heightening his remaining senses. He navigates through the world with the use of enhanced hearing, touching, smell and feeling. He can hear your heartbeat from across the room, a conversation a few blocks away and can smell stinky cologne from around the corner. He is blind but he has other ways to see. Mix these senses with some training in the art of the ninja and you have a badass blind vigilante. Come nightfall, Murdock dons his signature red costume and becomes Daredevil, kick-ass scourge of the New York underworld.
The season was a thrill ride with Matt Murdock's Daredevil taking to the streets of Hell's Kitchen to bring about his own brutal and bloody variety of justice. In Daredevil, we have a show that probably gets the closest of any comic-based series to doing its source material justice. After enjoying this show, AGAIN, I've picked out a few things that made it king of the comic book television mountaintop.
Here's an analysis of what makes "Daredevil" a show to watch.
The Stunts/Fights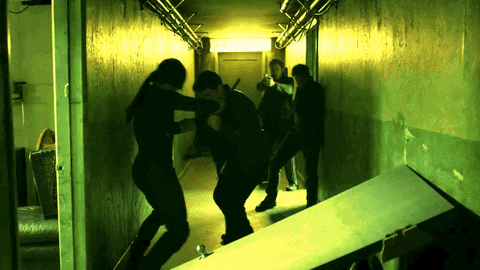 Apparently with a bigger budget comes better stunt coordination (who would've thought?). The fight scenes here are on caliber with Marvel's very best cinematic stunt work and even conjures comparisons to action film classics like The Raid and John Wick. The fights are brutal and beautiful at the same time. The second episode features a one-take shot that is particularly stunning. A small bit of grounding makes every fight sequence seem that much more vicious.
Matt never moves cartoonish as to take us out of the fight, yet, impressively, is still never prey to the old cliche of just beating up one bad guy at time. This type of fighting and stunt-work allows for a more realistic depiction of the toll it takes on someone who does this. This is a hero who tires while fighting. He catches a breather while pummeling crooks. You see him stumble, fall and take a knee at times.  He fights on sheer will and drive. I'm sure he could use a timeout now and again to take a sip of Gatorade.
The Casting
The two most important roles here are Matt Murdock and Wilson Fisk (as you'd imagine). On both counts, this show nails the casting. As the hero and villain, both characters thankfully don't fall victim to the good vs. evil trope. The characters are two sides of the same coin and sometimes call into question who's the hero and who's the villain. Vincent D'Onofrio  brings more complexity, sadness, and humanity to the role than we'd ever have expected, and crafts a villain that is the most compelling we've seen in television let alone Marvel. He's every bit a nervous child as he is a dreadful monster. The innocence he conveys is equivalent to the venomous conviction he also renders. British actor Charlie Cox gives Matt Murdock a modest and thoughtful charm. However, Matt is obviously tortured by questions of faith and justice, as his Catholicism, (a sprinkle of catholic guilt added) gets the best of him at times. Cox gives a great performance as a man who struggles with his religion and rage. He tries to keep his faith all the while giving into anger over the plight of his city. No to mention, he plays a blind man very well. Unusually strong acting from a cast of up-and-comers and veteran character actors propel the show to greatness. The relationships are what make the cast great. Every interaction is earnest and complex. Everyone from the main cast to the supporting guest stars does their job well.
The Writing
The show takes a huge influence from comic writer Frank Miller, who's had the biggest influence on the character in the last 30 years. The characters and relationships feel like a direct pull from the pages of Frank Miller's work. It's a crime drama take on the superhero genre. It's patient, resisting the urge to tell its viewers everything at once. It's more show than tell and that works beautifully. We see relationships between characters develop, blossom, and more often than not, go south. It's as much a character drama as it is an action oriented show. Its ability to balance style and substance is remarkable. But the action does kick ass.
The Location
The show is shot in the neighborhood of Hell's Kitchen, New York. This area isn't as seedy and dangerous as it used to be, but the show alters that and gives a unique and interesting reason for its return back to peril. Daredevil really portrays the hustle and bustle of New York. It captures its very essence and makes the city seem like a character itself. The streets, the people, the noise; it's all so effervescent and expansive.
Daredevil is shockingly good, and moreover, it has what the best TV shows and the best comics have. It absolutely changes the game for comic-based television, and I can't wait to see what season 2 will bring.
LET IT MARINATE!!!