10 Underrated Horror Comedies
We all know Shaun of the Dead and Zombieland are amazing movies, as are the classics such as Young Frankenstein and Evil Dead II. I am personally a big fan of the horror-comedy genre and there plenty more films out there worth checking out if you are too. Below I name ten horror comedies that I believe either flew under the radar and/or don't get the props they deserve.
10. Witching and Bitching (2013)
A coven of witches takes on jewel thieves in this Spanish-language flick. This one flew under the radar but if you're looking for a laugh embedded in classic horror tropes, then check it out.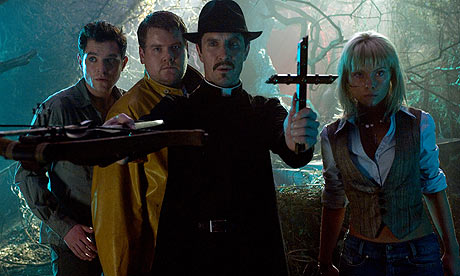 9. Lesbian Vampire Killers (2009)
The perfect anecdote of the exploitative films of the 1970s, this horror comedy pokes fun at our obsession with sexy queer women while still delivering a fun narrative starring the now-famous James Corden.
8. Satan's Little Helper (2004)
What happens when a little boy jealous of his big sister's new boyfriend makes a new friend of his own? This slasher packs a punch and is perfect for those looking for that Halloween-feel.
7. Grabbers (2012)
Especially poignant in these times of isolation, this tale of Irish pub-goers stuck inside a bar is a fun time. Their choice lies between getting blasted drunk or facing blood-sucking aliens.
6. Cooties (2014)
Children are scary as is, but what if they become actual virus-ridden monsters? Starring a bevy of famous faces, this movie is a darn good time.
5. Popcorn (1991)
The oldest film on this list, Popcorn is a gem for vintage slasher lovers who want to have a little laugh as teens get picked off at an abandoned movie theater.
4. Krampus (2015)
Immediately a Christmas classic, Krampus boasts a fantastic cast, realistic laughs and creepy scares all in the right ratios. This one is a must-watch.
3. Scouts Guide to the Zombie Apocalypse (2015)
Boy scouts vs zombies complete with lovable characters, fast-paced action scenes and warm laughs make this a delectable watch.
2. All Cheerleaders Die (2013)
This film certainly isn't for everyone but fans of noughties classics like Mean Girls might get a kick out of this story of resurrected cheerleaders out for revenge.
1. Idle Hands (1999)
This holiday classic seems to have gotten lost in the latest generations' Halloween marathons. We need to bring it back though because the deliciously 90s-feel of this horror comedy is worth rewatching.