Kim's Convenience: OK See You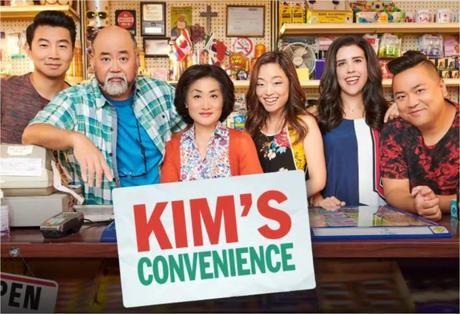 About a year or so ago I fell down a Wiki rabbit hole and learned about a series called Kim's Convenience. I saw how in terms of acclaim and award gold in its native Canada it rivalled that of Schitt's Creek and Letterkenny. Since I love both of those shows, I decided to give Kim's Convenience a shot. Luckily for those of us who live south of the Great White North the show was streaming on Netflix. Over the course of a weekend myself and my amazing wife binged all three available seasons. Not only did I laugh harder at this series than I believe I have at any show in quite some time, but I became heavily invested emotionally in the characters in the Kim family, their friends and the little convenience store in Toronto. A short while later a fourth season hit and that day I was on my couch for more episodes. My new TV obsession was solidified and I joined a growing number of international Kim's Convenience fans. With it's influence spreading worldwide as well as being a hit in its native Canada, the CBC had given the sitcom an easy greenlight for a new season and probably another one after that. With mountains of critical and commercial success to go along with the early renewal, it understandably hit everyone; cast, crew, and fans like a brick when out of the blue this past spring word came down Kim's Convenience was cancelled and season 5 would be it's final run. Now that this last series of episodes has hit Netflix, myself and many other American fans got to join are northern neighbors in bidding farewell to a show which meant so much to so many people. So this is my farewell, or "OK see you" to Kim's Convenience.
The show was based off a stage play by Korean born writer Ins Choi, which proved massively successful enough for the CBC to adapt it to television in 2016. Choi joined with TV writer Kevin White to take Mr. Kim's shop from the stage to the screen. Joining him from the original play were stars Paul Sun-Hyung Lee as Mr. Sang-il"Appa" Kim and Jean Yoon as Mrs. Yong-mi "Umma" Kim. Set in the Moss Park area of Toronto, Mr. Kim is the stubborn, sarcastic, opinionated, and downright hilarious owner of Kim's Convenience. He runs the store with his wife Mrs. Kim with the help of his equally stubborn student daughter Janet. Kim is estranged from his eldest son Jung who works at Handy's Car Rental with his best friend "Kimchee" and is involved in a will they?/won't they? with his boss Shannon. Over the course of five seasons we saw the various relationships grow and evolve. Mr. Kim and Jung became closer even if we were deprived of a full true reconciliation. Janet moved in with her best friend Gerald leading to the two of them experiencing complicated emotions. In the final season Mrs. Kim is diagnosed with Multiple Sclerosis which throws her life into chaos to the point she even questions her faith.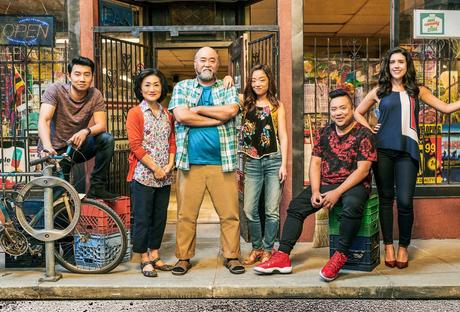 At its core Kim's Convenience is a heartfelt and hilarious comedy about a family living through the immigrant experience. Mr. Kim brought his family to Canada to give them a better life, worked hard and opened his own business while serving as the patriarch of the Kims. In a field of media where diversity can be woefully underwhelming this was a show focused on an East Asian family which is sadly a rarity on mainstream television. In this respect it has been tied by many to the ABC sitcom Fresh Off the Boat which also focused on a family of a similar background making a new life in Florida. In fact during Global Bastard lockdown, the casts of both of these incredible shows even teamed up for Zoom script readings of their respective Pilot episodes. Beyond the Kim family, viewers were treated to a host of characters from a variety of races, genders, faiths, sexual orientations and everything in between. This went a long way in Kim's Convenience striking a chord with such a wide audience as so many different people saw themselves represented on television in a way which was authentic and respectful. Every single character from Mr. Kim to recurring characters who frequently pop up was written and portrayed with a depth rarely seen at this level on TV.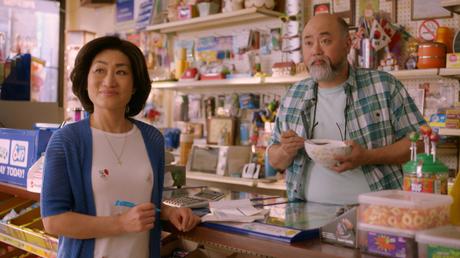 A massive part of the show's success rests in the decision from Ins Choi and Kevin White to bring Paul Sun-Hyung Lee and Jean Yoon in to reprise their lead roles from the source material. Both of them were veterans of the acting profession, but they exploded in popularity once they brought Mr. and Mrs. Kim to screens all over Canada. Paul Sun-Hyung Lee easily has some of the best comedic skills of any actor on television. His delivery of a joke is absolutely impeccable and his comedy timing is pitch perfect. The fact that his character can be so headstrong leads to some of the funniest moments on the show. Jean Yoon is without a doubt the moral center of the show, a kind matriarch who is not afraid to speak spiky truth with often hilarious results. As the source of humor over a generational rift, Andrea Bang plays off Lee so well that the two of them are often responsible for some of the most hilarious moments on the show. One of the key contributions Kim's Convenience has made towards pop culture is the discovery of Simu Liu as Jung, he radiates with charisma and coolness that it is no wonder Marvel Studios cast him as a superhero in the upcoming Shang Chi and The Legend of the Ten Rings. Serving as the quintessential Lou Costello to his Bud Abbott is Andrew Phung as his best friend, roommate, and coworker who has the comedy chops to steal any scene he is in. Joining the two of them in the Handy's Car Rental plotlines of the show is Nicole Power who brings such a fun quirky energy to the store's manager Shannon. While the show starts with her having a one-sided crush on Jung, over time we see the feeling is mutual and the evolution of their relationship became a key aspect of the series. Shannon endeared herself to audiences to the point where a spin-off featuring this character is on the horizon called Strays.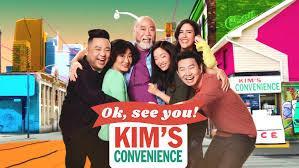 When the decision came down that creators Ins Choi and Kevin White were abruptly leaving the show and the plug was being pulled on Kim's Convenience altogether it left the cast, crew and fans devastated. This was a series which meant so much to so many people and instead of looking forward to the promised next season we all learned that once this season wrapped that was it and we were left with the parting shot of Mr. and Mrs. Kim turning off the lights of the shop and walking off together. The cast in particular has not been shy about about expressing how upset they are that everything was being taken away. Simu Liu in particular has taken to social media many times with his frustration that Jung's character arc will never be completed and fans will never get a chance to say "farewell to the bodega that has defined the immigrant journey". Jean Yoon was quick to point out how view Asian characters were seen on TV as is is and now there would be even less representation. On his Bitter Asian Dude YouTube channel Paul Sun-Hyung Lee fought back tears while openly and honestly discussing the situation. But ultimately he did not want the legacy of Kim's Convenience to be the sadness of it being cutdown prematurely, but rather a celebration of what it accomplished. He then proceeded to heap endless praise on all those he had worked with over the past five seasons. To be sure there is plenty to celebrate about what Kim's Convenience accomplished from the multiple awards to the boundless acclaim from critics. Ultimately the true testament of the show's success was how it resonated with fans not just in Canada but around the world. Millions laughed along with the Kim family for five seasons and will likely continue to rewatch the show for long into the foreseeable future. For now as a salute to this wonderful series it is only fitting to give it one final and heartfelt "OK, see you."