15 More Graphic Novels to Read This Halloween Season
It's Autumn which means House of Geekery presents a spooky-filled reading list for the Halloween season. We've been doing this for many years now but luckily, the number of talented and entertaining people writing and creating horror stories is near limitless. Below are links to our previous Halloween reading lists.
20 Authors to Read During the Halloween Season
20 More Authors to Read This Halloween Season
20 Even More Authors to Read This Halloween Season
20 Female Authors to Read This Halloween Season
For the 2020 version, I'm going to give you a Part 2 list of some great graphic novels to get you into the chilly mood. Enjoy!
Before you get angry that your fave isn't included below, check to see if it was featured in our last 30 Graphic Novels to Read This Halloween Season blog!
1. Uzumaki (by Junji Ito): A small coastal Japanese town becomes obsessed with all things spiral and the consequences manifest in the most unusual ways.
2. Harrow County (by Cullen Bunn and Tyler Crook): A southern gothic fairy tale about a forest filled with ghosts and monsters.
3. Scooby Apocalypse (by: by Keith Giffen, Jim Lee, Howard Porter, J.M. DeMatteis, Wellinton Alves, Dale Eaglesham, Ron Wagner): The members of the Scooby Gang must survive a post-apocalyptic world where everyone else has turned into a monster.
4. Savage (by Jeff Frank, Dan Wickline, Steve Niles, Mike Mayhew): Perfect for readers who've ever wondered what would happen if the legendary Bigfoot met werewolves.
5. Happiness (by Shūzō Oshimi): A teenage boy's encounter with a mysterious girl in the night leaves him feeling very different.
6. The Woods (by James Tynion IV and Michael Dialynas): On October 16, 2013, 500 people from Bay Point Preparatory High School in Milwaukee vanish without a trace.
7. Freaks of the Heartland (by Steve Niles): A small midwestern town is hiding a terrible secret that might become more dangerous than they can control.
8. Snow, Glass, Apples (by Neil Gaiman and Colleen Doran): The story of Snow White told with chilling horror and hauntingly beautiful imagery.
9. Ghosted (by Joshua Williamson, Goran Sudžuka, Miroslav Mrva): What happens when a crack team plans a heist in a haunted house?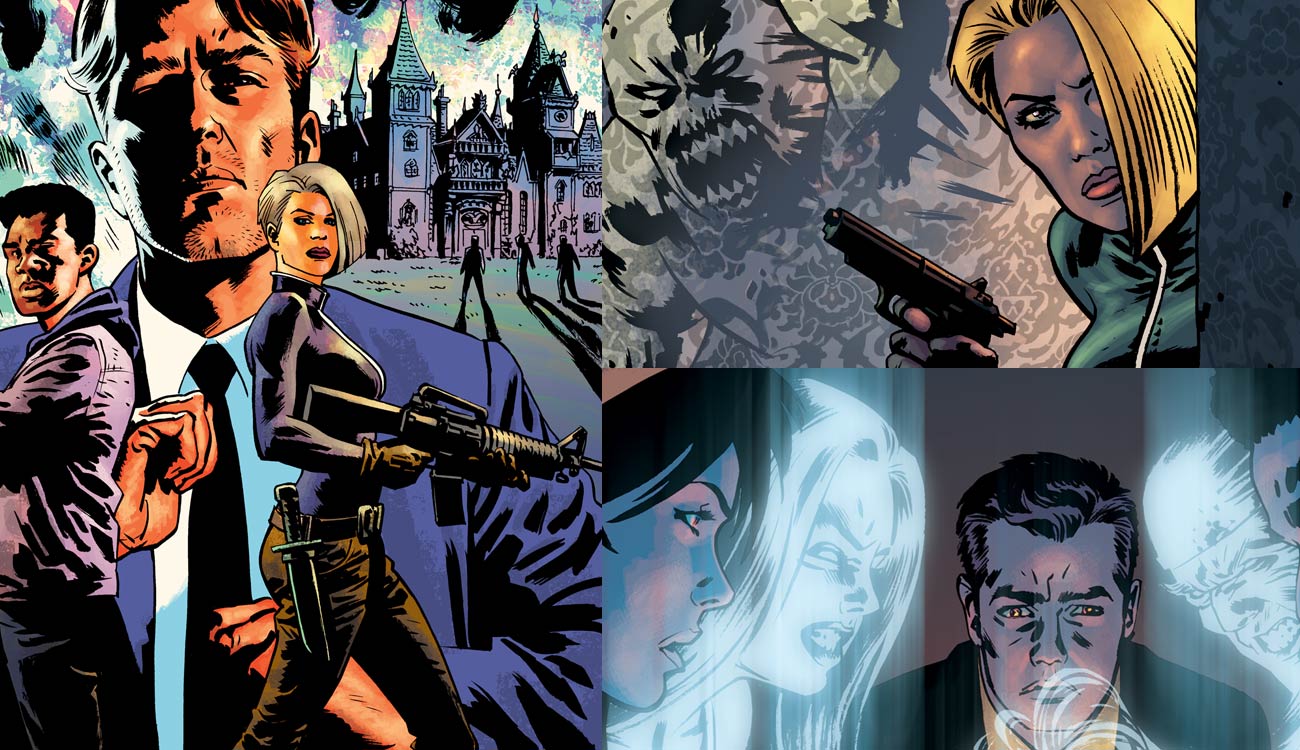 10. Anthony Bourdain's Hungry Ghosts (by Anthony Bourdain, Joel Rose, Alberto Ponticelli, Vanesa Del Rey, Mateus Santolouco, Leonardo Manco): Japanese ghost stories retold with additional recipes to put you in the mood.
11. Exorsisters (by Ian Boothby, Gisèle Lagacé, Pete Pantazis): Hire Kate and Cate Harrow to solve all of your weirdest, more devilish mysteries.
12. The Beauty (by Jeremy Haun, Jason A. Hurley, John Rauch, Fonografiks): This story is about a new sexually transmitted disease- one that makes you beautiful.
13. When I Arrived at the Castle (by Emily Carroll): A beautiful queer vampire tale sure to satisfy lovers of dark fairy tales.
14. Wytches (by Scott Snyder, Jock, Matt Hollingsworth, Clem Robins): Something ancient and evil is waiting in the woods for a new family in town and it's hungry.
15. Black Magic (by Greg Rucka, Nicola Scott): Someone knows Detective Rowan Black's secret heritage of witchcraft and will do anything to expose her.